Our new house is a wonderful construction that facilitates our everyday life immensely, giving epic dimensions to what we usually consider insignificant, as it reminds us of the old popular districts, as we know them from the old movies and the play "The Courtyard of Miracles" by Iakovos Campanelli, where poor households and frayed dreams are crowded around an inner courtyard, hoping for better days.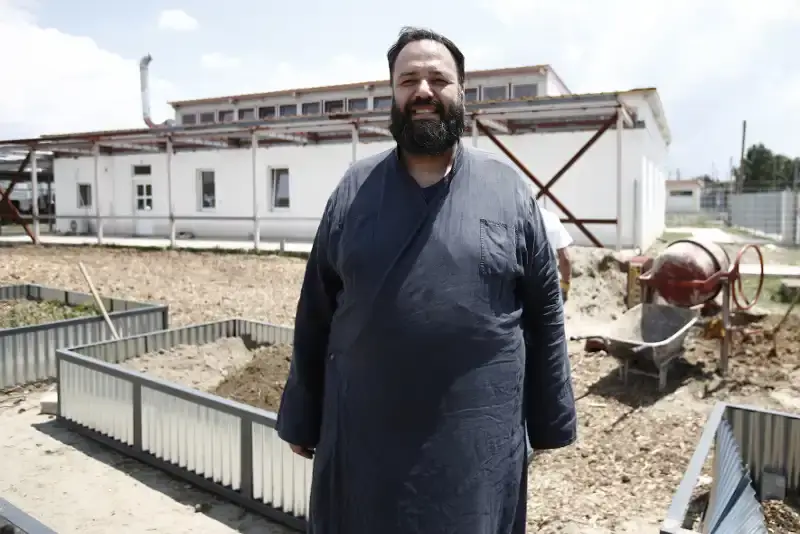 Four elongated container-type housings, like sturdy tentacles, weave a protective embrace, within which we, the children of Father Athenagoras, nest safely. When the intervening space was covered, we lost this theatrical courtyard and its stars together, but gained a vast hall that serves many purposes.
Of course, Father Athenagoras is the only one who still sees stars through our house, since he calls us his children "my stars."
All of our rooms face this central space, which helps partnerships and strengthen relationships.
Everyone is the center of everyone's attention, everyone cares about everyone and everything. We, however, are not limited to passively waiting for better days. We learn letters, educate ourselves, and consciously build the conditions for better days.
In our home there are no winding hallways and dark corners. There are clean lines and clear intentions: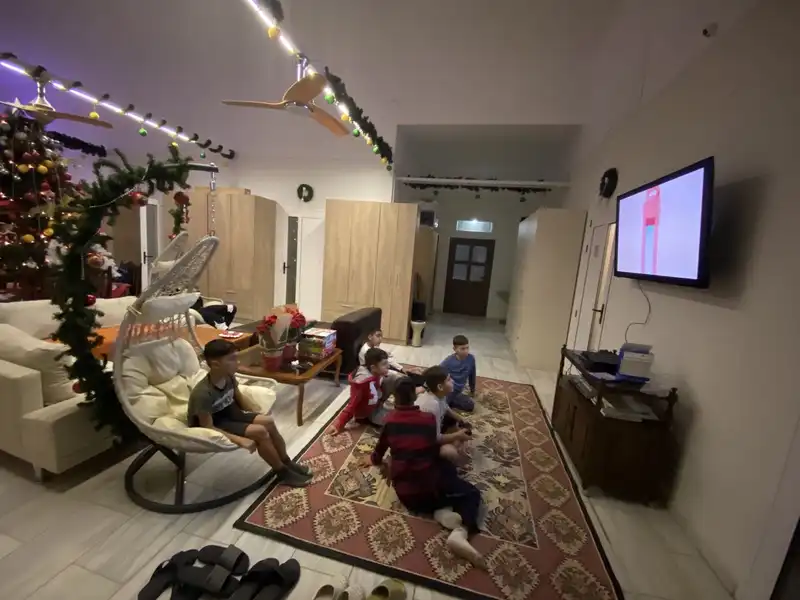 To grow the family in a comfortable, homely and functional environment, discovering daily the richness of simplicity and learning valuable life lessons. Furthermore, our house proves in the most convincing way the popular proverb "a thousand good ones fit". It is amazing how many and how many good and interesting people come to be our friends! Each of them carries their own special microcosm, which is our treasure. Interesting encounters, lively conversations, experiences shared, powerful emotions. Ideas being born, dreams tied up and sailing away, life's castaways floating.
Our home submits to respect for our fellow man, for the basic values of life, for human rights, for nature, for the environment, for creativity and for human achievements, while providing for our four-legged brothers and sisters the place they deserve in our lives.
If I have to find a phrase that accurately describes our home and what it represents to us, I choose to say: ALL FOR ALL.
Since the beginning of 2020 our family and the people who live with us every day, the lighthouse keepers, as we like to call them, have had the pleasure and honor, thanks to the volunteers and sponsors who support us, to move into our new home, which continually surprises us pleasantly as we discover the infinite aspects of its functionality, the result of the wise design of our volunteer Architect and Civil Engineer Mr. George Kaliantzopoulos, an expatriate from N. Jersey:
Four elongated houses are arranged in a rectangle creating a spacious interior space, which is housed by a sloping superstructure with a series of windows on its raised side, transforming the original atrium into a multi-purpose hall with a skylight.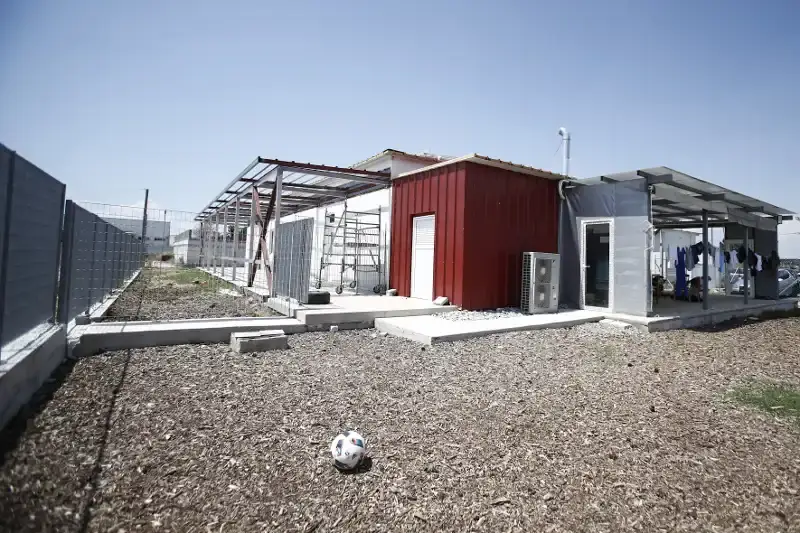 Our house and the outdoor courtyard, which surrounds it like an oasis of coolness and greenery in the harsh landscape of Dendropotamos, is ecological and extremely environmentally friendly for the following main reasons:
The foundation basin, which has the infrastructure for the drainage of rainwater and groundwater, given that the water table of the area is very high, has been constructed from recycled concrete derived from demolition of old buildings.
The four houses and the superstructure have significantly lower construction costs than the traditional type of expensive and energy-intensive structures.
Our house is bioclimatic, maintaining a pleasant microclimate throughout the seasons thanks to the thermo-protection with successive layers of state-of-the-art insulation materials and the well thought-out arrangement of windows and transoms. For the same reason the house is bright throughout the day without the use of electric lamps.
The underfloor heating system is served by a heat pump supported by solar panels.
We are in search of a sponsor or sponsors for the supply and installation of a Photovoltaic Energy System that will allow us to operate completely self-sufficiently at zero cost.
Our yard is covered with a thick layer of wood chips that comes from the prunings in the parks and streets and is offered to us in abundance by the Municipality of Ampelokipon – Menemenis and the Municipality of Thessaloniki who are constantly on our side. We make sure to enrich it with organic materials by burying in it fruits and vegetables that are not suitable for consumption and that we get for free from our neighbouring market for this purpose. In this way we produce our own natural compost-fertilizer for the crops we plan to grow.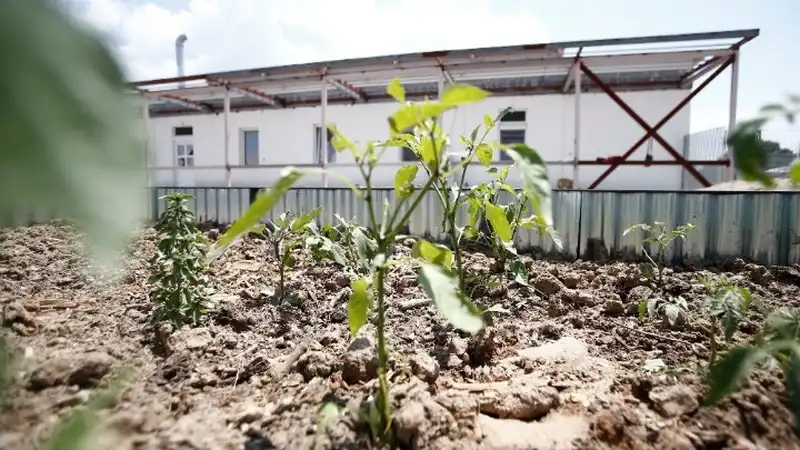 7. We will soon install a rainwater harvesting system from our roofs to water our fruit trees and ornamental plants, as well as the vegetable garden we planted in raised beds, like the "salvation garden" that all the houses used to have in their yards. We have filled these beds with layers of alternating materials to minimize water consumption and protect our plants.
These blessed tasks are like introductory lessons to the great School of Nature that fascinates us and is sure to open up new professional horizons as we attend hydroponics and aquaponics seminars while learning the advantages of organic farming.
In the meantime, we know the joy of being in touch with mother earth, taste the joy of the producer who has worked hard for his harvest, while improving our eating habits.   
It is worth noting that the Regional Governor of Central Macedonia plans to grant us for social use two fields of four acres in our settlement, from which we can provide small pieces for private individuals for cultivation, while our Vangelis, who studies at the AMERICAN AGRICULTURAL SCHOOL, can take on the responsibility of informing and supervising amateur farmers.