Important stations of the "Faros tou kosmou" (Lighthouse of the world)
Council of Europe

In 2014, the European Economic and Social Committee of the European Union honored the "Faros tou kosmou" with the Civil Society Prize for its entire work "as a good practice for literacy and social inclusion".
State Department
In 2016, the US State Department awarded the work of "Faros tou kosmou" as a good practice for the literacy and social integration of ROMA's Dendropos. Within the framework of this honorary distinction through the Embassy of Athens, the father Athinagoras Lukataris accepted the invitation of the Foreign Ministry of the USA. for an official visit to America, which is part of the ministry's International Visitors' Program. This informative journey included guided tours in seven different states and information on the practices applied to the integration of young people from minority groups as well as offending young people.
Robotics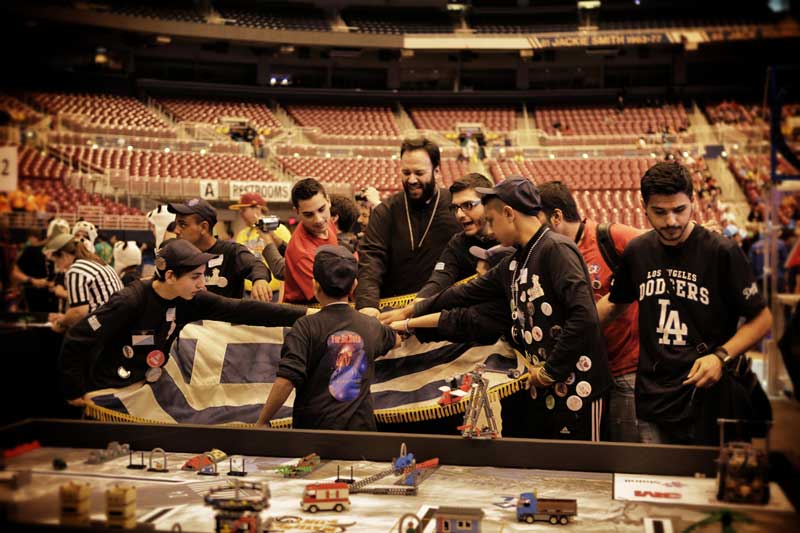 The robotics educational team of "Faros tou kosmou" Far.Go. Bots has emerged in recent years as a leading team in all of Greece and one of the best in the world. The team has been awarded with a number of awards in the FIRST LEGO LEAGUE educational robotics competition among them and the first prize project in the main "RESEARCH" category for the solutions it proposes. He has traveled twice in the final global competition in America, marking significant distinctions. The second CONNECT team has been honored with the prize against conditions.
Greek parliament
On the occasion of the World Roma Day, the Greek Parliament opens its doors for the Roma for the first time and officially celebrates this day by giving the children of the "Faros tou kosmou" a step of making their talk, talking about their lives and suggesting solutions.