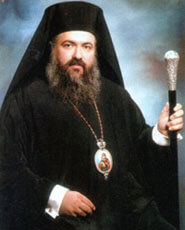 The Metropolitan of Neapolis and Stavropoleos Varnavas (World Marcus) Tyris, a child of Asia Minor origin, was born in Diavata, Thessaloniki in 1958.
He completed his encyclopedic studies at his place of origin and then attended the Lamia Ecclesiastical School. He received his degree from the Pedagogical Academy of Lamia and then from the Aristotle University of Thessaloniki. Speaks the Turkish language.
After completing his studies, he successfully worked in the known biscuit industry "Papadopoulou" as a worker and then as an executive.
Ekaris Monachus and was ordained Deacon in 1984 by His Eminence Metropolitan Neapolis and Stavropoleos, Dionysios. In the same year he was ordained the Elder and received the Archimandrite's offspring. He then received the Archimandrite of the Ecumenical Throne.
He was Chief Archbishop of the Metropolis of Neapolis and Stavropoleos. From 1989 until his election as Bishop, he was the head of the Central Finance Office of the Church of Greece in Thessaloniki.
On Wednesday, October 6, 2004, the memory of Apostle Thomas, the Metropolitan of Neapolis and Stavropoleos was elected by the Hierarchy of the Church of Greece.
On Sunday, October 10, 2004, the memory of the holy witnesses of Eubalio and Eubalia, a bishop in the Cathedral of Athens.
On Sunday, November 7, 2004, a Symphony of All Neapolitan Saints Martyrs, was enthroned at the Cathedral of the Holy Prodromos of Naples.